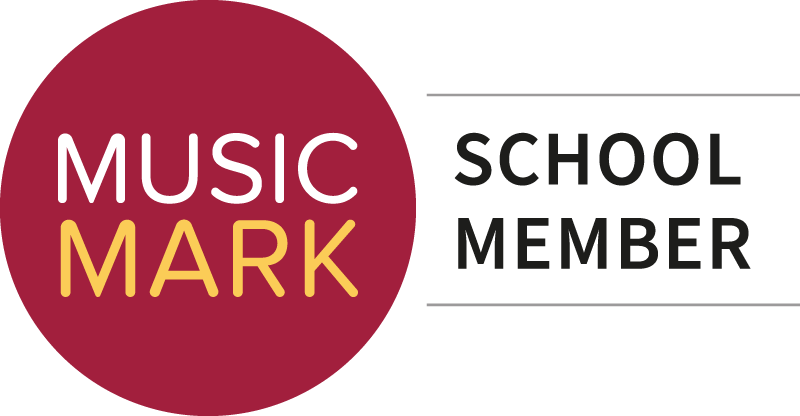 Music
We pride ourselves on the opportunities for art and music across the school having been awarded the school Gold award for excellence in music provision. Most recently in October 2018 we were delighted to become a 'Music Mark School Member' in recognition of the opportunities offered, teaching provided and achievements of our children.
"We would like to thank you for all the hard work you and your colleagues do to ensure that pupils at your school are able to access and engage with a high-quality music education. Your dedication to offering and delivering a broad and balanced curriculum is both welcomed and celebrated.
Music Mark works to enable our members, and the wider music education sector, to deliver high quality musical and social outcomes for all children and young people. My thanks for all that you are doing and will continue to do to support our collective vision."
(Bridget Whyte, Chief Executive, Music Mark)
We have also been proud to hear one of our former pupils was accepted in to the Birmingham Symphony Youth Orchestra; we were delighted when she shared her experience and inspired our pupils via a 'Violin Masterclass' during the Summer term.
In Early Years (Nursery and Reception) children sing a range of well-known nursery rhymes and songs. They perform songs, rhymes, poems and stories with others.
In Key Stage 1 (Year 1 and 2) Children begin to use their voices expressively and creatively by singing songs and speaking chants and rhymes. They play tuned and untuned instruments. Children listen with concentration and understanding to live and recorded music. They create, select and combine sounds using dimensions of music.
In Key Stage 2 (years 3, 4, 5 and 6) children play and perform solo and in ensembles. They use their voices and play musical instruments with increasing accuracy, fluency, control and expression. They improvise and compose music for a range of purposes using dimensions of music. Children listen with attention to detail and recall sounds with increasing aural memory. Children use and understand staff and other musical notations. They appreciate and understand a wide range of live and recorded music drawn from different traditions, composers and musicians. Children develop an understanding of the history of music.
As part of the curriculum, all children receive weekly music lessons from a specialist teacher, provided by Shropshire Music Service, in their class groups where they compose their own music using simple percussion instruments and the body. This teacher uses the Shropshire Music Service progression of music curriculum skills to plan the termly focus for each class.
Music is a broad and open-ended subject and as such gives all children the chance to take part. Where necessary and in accordance with a child's needs they may be supported or an activity may be adapted to give them the opportunity to take part.
Music provides opportunities to solve problems, work independently, work as part of a group and be responsible for self-regulation. Therefore there is plenty of scope to give gifted and talented children the opportunity to extend their working and provide challenge for them.
There are regular singing sessions and opportunities to perform musical pieces for a range of audiences including our daily Worship, Church Services, School Productions and our annual School Fete. Many children also participate in Young Voices Choir (after school club) and perform in a concert at the Genting Arena, Birmingham with thousands of other children.
All pupils in Year 3 learn to play the recorder and in Years 4 and 5 they learn the violin. All pupils in Year 4, 5 and 6 may choose to be included in our Percussion Ensemble; two groups play each week led by Mr Clowes, our percussion teacher. The tuition and instruments are provided by the school. Regular concerts and performances give our musicians the opportunity to play to an audience – including the much-loved Mince Pie Concert and the Summer Concert. The recorder ensemble accompanies singing in Worship each day.
The Arts
The creative arts involve imagination and creativity, and include dance, movement and drama, as well as art and music.
Our curriculum for art includes a wide range of experiences, which are provided using a whole range of materials including observational drawing, colour mixing, painting, collage, model making, sewing and printing. Skills are taught and developed and the children are encouraged to discuss and listen to others, sharing ideas and modifying them in the light of experience, as well as enjoying and appreciating their own and other's efforts.
The Pearl of Africa Children's Choir has been a great highlight over recent years; the Choir spend the day in school, delivering art, craft, music and dance workshops – their energy and talent is always an inspiration which we invite the families and friends of our school to enjoy in the evening.
Art at St John the Baptist
At St John the Baptist CE Primary School, we believe that teaching art is integral to developing a child's creativity as part of a broad and balanced curriculum.  It stimulates their imagination and offers opportunities to explore and respond to the world around them.  Our curriculum aims to equip our pupils with the knowledge and skills needed to explore the work of existing artists before creating their own pieces.  We encourage our pupils to view art as a process that can evolve and change, reflecting an artist's viewpoint as well as historical and cultural influences.
Our curriculum for art includes a wide range of experiences, which are provided using a whole range of materials including observational drawing, colour mixing, painting, collage, model making, sewing and printing.  Key skills are taught and developed through engaging termly units.  During these, the children are encouraged to discuss and share ideas for enjoyment, modifying them in the light of their experiences, as well as evaluate and appreciate their own and other's work.  We have ensured that pupils learn about a wide range of British and international artists through our planning.
Art Planning Overview
Art is taught termly and covers the following areas: drawing, painting, sculpture, collage, textiles and printing (see below).  Within the teaching sequence, work from significant artists/craftspeople is also explored to enhance and inspire the children.  Further detail can be found within the rolling programme.  Art books are used to allow the children time to engage with a piece of artwork or media type, as well as to record and reflect on their own ideas.
The above overview ensures that each child will have coverage of all 6 skill areas across the 2 year cycle no matter which class they are in.  Each class teacher makes use of the Art Progression Document (see below) to ensure that all skills are covered across the cycle of skills.  Each skill can be moved within the year if needed to fit in with topics in order to make the art cross curricular, but not moved to the next cycle.  However, the context for each unit is decided by each class teacher to provide meaningful cross curricular links wherever possible.   Following the above overview ensures a range of Art, Craft and Design across the 2-year cycle for each child.
We hold a dedicated Arts Week each year to take the opportunity to share a love of art beyond the curriculum with pupils; many examples of the artwork created can be seen around our school building. Other events which develop and showcase the children's artistic skills include the Annual Homegrown Show and also Ruyton's Got Talent – a KS2 favourite!